It is officially Saturday but since I haven't got to bed yet I am going to pretend like it is still Friday so I can post my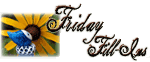 #59
1. Snowdrops are
Pretty, until you have to drive in them
.
2. I'm going to
cherish every moment
3.
Finally Found Someone- the Star Spangled Banner- Almost Heaven, and of course Happy Birthday
are all songs whose lyrics have meaning to me.
4. Just one sip
of the Pomegrante Margarita from Longhorn
and
I was hooked
.
5.
Surrounded by friends and family
is where I'm happiest.
6. I believe that
making mistakes and learning from them
is a necessary part of life.
7. And as for the weekend, tonight I'm looking forward to
hanging out with Darren
, tomorrow my plans include
work and hanging out with Darren
and Sunday, I want to
make it through an episode of Extreme Makeover Home Edition without crying
!